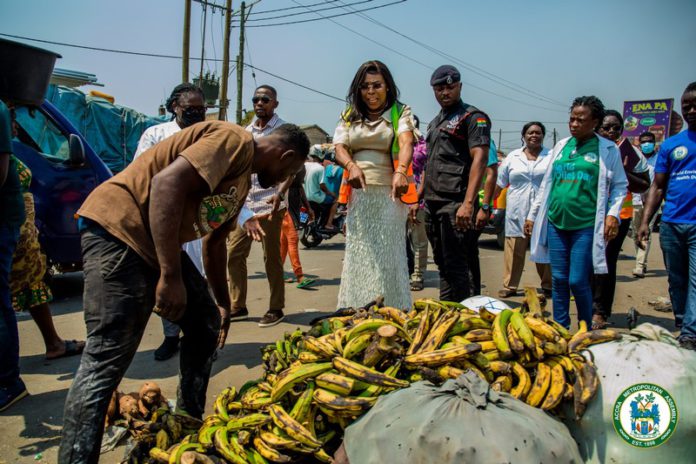 Public Health Officers from the Accra Metropolitan Assembly (AMA) have arrested some 23 traders at the Agbogbloshie market for selling foodstuff on bare floor and under unhygienic conditions.
The arrest was made on Wednesday when the AMA in collaboration with Multimedia Group (Joy News/ Joy FM) resumed the 'Clean Ghana campaign', an initiative that seeks to help enforce waste management laws and educate the general public on how to manage waste.
From foodstuffs overexposed to sunlight to displaying food items on the streets near choked gutters, the officials were incensed by the level of disregard for hygiene standards.
Expressing her disappointment in the traders on their disregard for the Assembly's bylaws on sanitation, the Mayor of Accra, Hon Elizabeth Kwatsoe Tawiah Sackey, who joined the team, ordered the immediate removal of traders selling on streets into the markets where they have shed.
The AMA boss reiterated that some of the traders after all the education and engagements over the years against displaying their goods on the bare ground and at unauthorised places still continued to go contrary, adding that the Assembly would not show any mercy in dealing with such offenders anymore, hence the arrest.