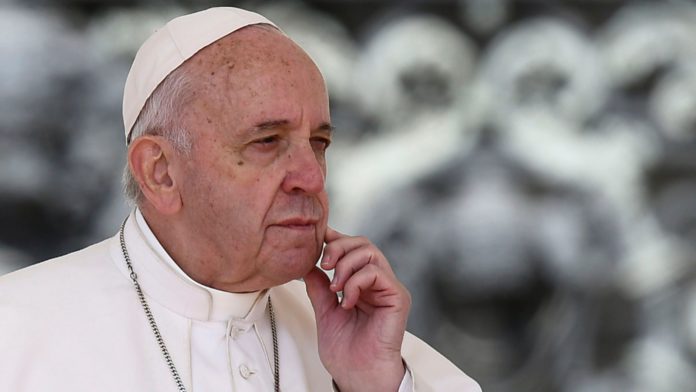 A group of about 60 Catholic pilgrims are recovering after spending nine days trekking through war-torn South Sudan to see Pope Francis in the capital, Juba.
"My feet are sore, but I am not so tired. When the spirit is with you, you do not get tired," NightRose Falea said as she licked her cracked, dry lips.
"I would not have missed coming to Juba for anything. We are here to get the Pope's blessings. I am confident that with his blessings things will change for this country," she told the BBC.
Driven by faith and a sense of patriotism, the women had set off from Rumbek – some 300km (190 miles) north-west of Juba.
Their mission: to join the Pope in prayer for the world's youngest nation, which has been beset by conflict since its independence in 2011 – a situation that has brought untold misery to millions of its people.
"We walked for a couple of hours each day and then we would spend the night in the parishes at the centres where we were. It was tiring but worth it," said Faith Biel.
As they walked for the last few miles, dust and joyful songs filled the air as a caravan of people sang and stamped their feet.
The spectacle attracted crowds of onlookers. Some joined in as the dancing became more vigorous. Others, unsure, stood at a safe distance to make way for the group of women dressed in white and wearing headscarves with a print of Pope Francis's face.
Their besmirched clothes, blistered feet and cracked lips attested to the ordeal of the nine-day trek, but they still danced and jumped to celebrate their accomplishment.
Refreshments awaited them at Juba's St Theresa's Catholic Church, where a welcoming party had also started singing and dancing.
One pilgrim, who was shedding tears as she arrived, hinted at the trauma the years of fighting have brought to this country.
"When you have smelled and seen death and hopelessness, then you will search for peace with all the might that you have," said the woman, who did not want to give her name.
"I have lost enough, but along the way I saw love and we all spoke one language – that of peace. I really pray that even after the Pope leaves, we will still be like that," she continued.
"He is a prophet and whatever he prays in the next few days, while on our soil, will come to pass. Things will be different. We are going to be one people."
The church is seen as a symbol of hope for many in South Sudan. It is where many displaced by the country's conflicts seek refuge.
It has also continued to take a leading role in the social welfare of the people and given most of them a sense of belonging.
Pope Francis is spending three days in the country and will hold a Mass on Sunday.
In a historic first, he travelled with two other Christian leaders – Archbishop of Canterbury Justin Welby and Moderator of the Presbyterian Church of Scotland Rev Iain Greenshields.
In 2019 Pope Francis kissed the feet of South Sudan's bitter political rivals, President Salva Kiir and his deputy Riek Machar, when they met at the Vatican.
This was an act that shocked many, even if it did not immediately end the fighting.
Although that conflict has now subsided, many local disputes still turn deadly on a regular basis – on the eve of the Pope's arrival, more than 20 people were killed in a cattle raid.
Millions of South Sudanese will be hoping – and praying – that the visit of the three religious leaders will mark a new beginning for this troubled country.