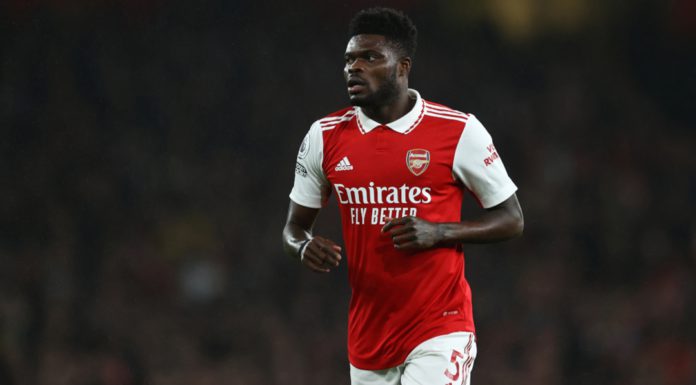 Arsenal midfielder Thomas Partey is still an injury doubt after feeling discomfort in his ribs in his last game but has not been ruled out of action yet, manager Mikel Arteta said on Friday.
Partey came off at halftime during Arsenal's FA Cup loss at Manchester City last week and Arteta had said at the time that he needed to undergo MRI scans after the Ghanaian revealed he could not continue.
"Let's see, that one is still a doubt. Let's see how he comes in today and if he's able to train or not. We will make a decision on that," Arteta told reporters ahead of Saturday's Premier League trip to Everton.
"He's not ruled out and it's nothing very significant but it was significant enough to get him out of the game, which for Thomas is a bit unusual but hopefully he'll be fine."
With Mohamed Elneny also ruled out – potentially for the rest of the season – after undergoing knee surgery, Arsenal were forced to act in the transfer market and signed Jorginho from London rivals Chelsea on deadline day.
"We knew that in this market you have to adapt and be flexible and ready for inconvenience," Arteta said.
"We had a big one with Mo's injury and we needed a player in that position. It's a player that I've always admired.
"His intelligence, his personality and leadership skill, he understands our way of playing. He fits really well with what I want to do. You have to adapt to the circumstances you have and now we have improved the squad."
READ ALSO
Arsenal have not won away at Goodison Park since 2017 and Arteta said he expects a tough test after Everton appointed Sean Dyche as their new manager.
"We have the experience in the last few years, how tough it's been and we didn't get the result we wanted. When it's a new manager the environment will change, a lot of things change," Arteta said.
"We haven't won there the past few years, so that's the test tomorrow."
Gabriel Martinelli's long-term contract extension was also announced on Friday and Arteta said it was part of a concerted effort to tie down the young players who have impressed in the title run, including Bukayo Saka and William Saliba.
"Part of the plan is obviously to extend the contracts of our biggest talents and we are trying to do that. The others will be done whenever we can, if we can agree on that," he said.